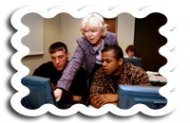 It is very important for every student who wishes to study in USA to understand and be aware of the education system. The system begins with kindergarten followed by 12 years of primary and
high school education
which is compulsory to get admitted to any graduate college or university.The children enroll themselves into an education system when they are five or six years of age. A child can choose to study either in private schools, or home schools or public schools.In America, the school academic year begins in late August or early September of each year and ends in late May or early June.
Primary or Elementary Education in the US
In primary or elementary school education, a student will be completing five grades of education. These five grades of education focus on introducing children to the broad range of knowledge, basic academic learning, reading and socialization skills they will need to perform well in their future. This also includes learning basics of mathematics, English proficiency, science, social studies, physical development and fine arts.
Secondary Education in the US
Junior high school (or middle school) and Senior high school together provides secondary education to the children. Junior high school refers to grade six through eight and high school begins with ninth grade and progresses to twelfth grade. The mandatory subjects which are taught in US high schools include : Science - biology, chemistry and physics,
Mathematics
- statistics, algebra, geometry and calculus,
English
- oral languages, humanities, literature and composition, Social Sciences - history, geography and economics. Most of the states have made health courses mandatory so that the students learn about first-aid, nutrition, sexuality and drug awareness. Art, foreign language and physical education is also made compulsory by some schools in the curriculum.
Undergraduate Education in the US
Undergraduate Schools offer a two-year degree which is called associate's degree or four-year degree called bachelor's degree in a particular field of study. This particular course of study is called major. The most common bachelor's degrees are Bachelor of Arts (B.A.), Bachelor of Science (B.S.), Bachelor of Fine Arts (B.F.A.), Bachelor of Social Work (B.S.W.), Bachelor of Engineering (B.Eng.), Bachelor of Philosophy (B.Phil.) and Bachelor of Architecture (B.Arch.) which is awarded after completing five year architecture course.
Postgraduate Education in the US
After the completion of undergraduate courses, the students can continue their studies by pursuing a master's degree which is a two-year degree to specialize in a particular field. After completing the master's degree, the students can pursue their education even further in a particular field with a doctorate degree. Based on the course opted, capability of the student and the dissertation selected, the duration to complete a doctorate degree is between three to six years.
External Link related to Education in USA
Peterson's GuideA Guide that helps you find the right college, right course, correct under-graduate or a post-graduate program, and information about different colleges in USA