Gain a world-class education: UK higher education offers you inspiring teaching, excellent facilities and a world-class research environment. Did you know that…
UK education is all about giving you the inspiration to help you develop your skills, the freedom to be creative, and the support you need to achieve your best.
UK universities and colleges invest in excellent facilities – from libraries, computer and science labs to sports centres, theatres and art studios. Class sizes are restricted to ensure that you have access to equipment and enough time to talk to your tutors and lecturers.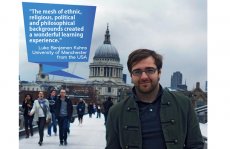 Prepare for the career of your dreams: UK qualifications are a great boost to your CV… and to your earnings. According to the Tracking International Graduate Outcomes survey by BIS, UK-educated international graduates achieve markedly higher average salaries than if they had been educated at home.
Employers are increasingly looking for multilingual graduates with multicultural experience. UK higher education gives you the opportunity to meet people from all over the world, providing an excellent introduction to global business environments. As a result, the QS World University Rankings found that UK graduates are among the most 'employable', with employers ranking two UK universities in the global top 10.
UK universities and colleges have strong links with industry. Many courses offer you the option of a year in industry too, which is an excellent way to prepare you for the world of work (check your visa status allows you to do this).
Perfect your English language skills: English is widely regarded as the language of international business. Studying on a UK course helps you learn the language through your study, friends and everyday life. You will find that your skills improve rapidly, and you might even start dreaming in English after a few days! If you need any additional support, there are lots of English language classes on offer across the UK. Find out more in our Learn English section.
Study what, when and where you want: With thousands of UK higher education courses on offer, you can follow your passions and choose a course that matches your goals and interests. You can choose to study online or on campus, in the UK or even at an overseas campus!
Save time and money: UK undergraduate and postgraduate courses are generally shorter than in other countries, helping to keep the cost of tuition fees and living expenses down.
A unique cultural adventure: Studying in the UK is an opportunity to discover the UK's unique culture, countryside and cities. There's also lots of adventure on offer, from music festivals and football matches to ancient castles and vibrant nightlife. Have a look at our Living and studying in the UK section for more details.
Join an international community: In 2012, over 420, 000 international students from over 200 nations came to the UK for their higher education, joining over two million local students. The UK is a truly multicultural society, with a great mix of people from different backgrounds. As a student, you'll get to know people from all over the world and be inspired by many cultures. Many universities and colleges provide international offices and advisers to ensure you feel welcome and are supported throughout your time in UK higher education.
Quality assured: UK universities and colleges are regularly reviewed to ensure high standards of academic education, teaching, accommodation, welfare support and facilities. Find out more in our Higher education – Universities and colleges article.