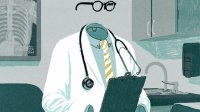 Primary Care still lags behind other specialties in U.S. medicine, but why?
Is it just a matter of people seeking more highly paid specialties? Why is the USA behind other countries regarding this specialty? The Annals of Family Medicine said earlier this year that an additional 52, 000 Primary Care Physicians are needed by 2025, a little more than 10 years away.
The UMHS Endeavour explores reasons why there are so few Primary Care physicians, based on recent press reports, and what this means for the public and students at American and Caribbean medical schools. This is the first installment in a new UMHS Endeavour series, "Transforming Primary Care".
Only 1 in 6 Med School Grads Choose Primary Care

An article on TheHill.com website this week included alarming statistics about Primary Care in the USA.
Following are key points of the article:
• "Unlike other wealthy countries, the United States has a low ratio of Primary Care physicians relative to medical specialists."
• "Currently, only one in three physicians practice Primary Care, and only one in six medical graduates chooses Primary Care."
• "When you consider that primary care visits account for 55 percent of the 1 billion physician office visits each year, and that the Patient Protection and Affordable Care Act (ACA) could generate an additional 25 million primary care visit annually, one begins to see an already stressed system being pushed to the brink."
• "One way to measure the adequacy of Primary Care access is by availability of obtaining a doctor's appointment when ill. Although we traditionally have criticized other countries for their long queues in receiving care, there is emerging evidence that long waits for primary care is becoming the norm in the U.S. According to a 2013 study by the Commonwealth Fund, 26 percent of 2, 000 Americans surveyed said they waited six days or more for a doctor's appointment when they were sick or needed care. This is just barely better than Canada (33 percent) and much worse than Britain (16 percent)."
Are Primary Care Physicians Becoming 'Extinct'?
An article on KevinMD.Com back in February 2014 had sobering things to say about the topic.
"Primary care physicians (PCPs) are becoming extinct, " the article said. "Not many medical students choose primary care as their career path. Older PCPs are retiring early. Many others are closing their practices or seeking employment at the local hospital. And there has always been a shortage of primary care physicians in rural and urban poor areas. Today only 30% of all physicians practice primary care (compared to about 70% in most other developed countries and about 70% in the United States fifty years ago) and this percentage is shrinking at a steady rate."
View from Matthew Mintz, M.D. at Primary Care Progress
Matthew Mintz, M.D. explains, on the website PrimaryCareProgress.org, in the article "Why Medical Students Aren't Choosing Primary Care (And Why They Should), " why he believes fewer med students choose Primary Care