Naheed Zaman, our Dublin City University and Indian ambassador shares some information and advice around admission, scholarships and finances.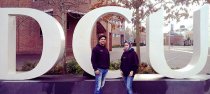 Two major requirements that are generally of concern for students planning for study abroad are:
GPA (senior school or college grades as we call it in India)
Finances (tuition fees and living expenses)
In the context of Irish universities, the current scene definitely stands competitive, with international students applying from all over the world. Needless to say, high GPAs are therefore the first and foremost criteria for obtaining a place in the top ranked Irish institutions.
However, even with high grades, sometimes the feasibility of studying in a European country like Ireland could look daunting in view of the financial requirements. These need to be carefully planned before undertaking any course abroad and, even more so, for an undergraduate programme which can span multiple years.
People mostly tend to rely on student loans, as bursaries and grants available in India are limited, when compared to students from Western nations, for study abroad programmes. The handful of scholarships which are available can be challenging to obtain but, there are other funding options that may not be as obviously conspicuous.
From my experience last year, I'd like to share some of the funding options that I found were available but may have needed a little research to find:
1. can be offered by a number of Irish universities for full-time, one year postgraduate courses, and can potentially cover your tuition fees and living expenses for a full year. The availability of Government of Ireland scholarships changes year on year, and DCU has been lucky in that they were awarded three in 2013/14 and one for 2014/15 however, there is no guarantee this will continue next year – check with the international office for your chosen institution.
These scholarships, when available, are limited and are therefore competitive. The application process for can differ from one university to another, but generally it includes writing a personal statement outlining your career goals along with other challenging questions like your ideas or efforts so far in enhancing or sustaining Irish and Indian relations.
Most of the scholarship application deadlines close by the end of April, and therefore preparing a personal statement should be started at least two months in advance, scrutinised several times by yourself and mentors and/or academic or professional references. The basic guidelines on how to go about writing a personal statement can be found on each of the universities' websites.
2. Apart from the GOI scholarships, each university has a couple more scholarship options for Indian students, like and that contributes towards a partial or full payment of the tuition fees at graduate level studies.
A couple of visits to all the university websites is recommended before visiting an educational consultant or agent, to look for courses of interest and the scope of scholarships offered by each, even if most of the application and admission process is done through an agent. Partial scholarships are available as well, offering up to 2000 euros or 50% of tuition fees.
3. Other scholarships and interest free loans available in India, which I applied for, included:
Almost all the scholarships have their application closing date set at the end of March or at the beginning of April so, the best advice is old advice – keep checking the leading newspapers and their supplementary copy on education, which may have some fresh offers this year, alongside the web.
I would like to stress once again that a central part in obtaining a scholarship is your personal statement. It should be written carefully with each sentence carrying a specific and a relevant message; devoid of any ambiguity and with no information repeated. Reading it multiple times and getting it proofread by others will help get rid of unwanted information which directs itself away from the main question, which often may not be apparent in just a few reads.
And lastly, the is no substitute for browsing and digging through all the options personally and doing all the home work and reasearch by yourself, even if your consultant has already done some for you, may show different results, often better and more suited to your needs.