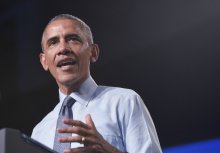 President Obama continued to promote his controversial proposal to provide two free years of community college during a speech Wednesday at Macomb Community College in Warren, Mich. During his talk, Obama announced the creation of the College Promise Advisory Board, as well as $175 million in apprenticeship grants by the Department of Labor.
"Education has always been the secret sauce, the secret to America's success, " he said.
Jill Biden will head the advisory board alongside former Wyoming governor Jim Geringer and former under secretary of education Martha Kanter.
The plan, American College Promise, would lead to a "better, smarter America, " Biden said at Macomb.
"Joe and I, the first lady and the president, would not be here today without an education."
During his speech, Obama noted that Tennessee saw the enrollment of 15, 000 students in its own community college program this fall. "Not one" had to take out a loan to pay for tuition. He added that in the last six months, six more states have enacted similar programs. Ten more, said, have introduced new legislation.
"There's a movement going on, " Obama said.
In a statement released earlier on Wednesday, the White House said that the Labor Department's grants, which will be distributed among 46 public-private partnerships, are expected to create over 34, 000 apprenticeships in the health care, manufacturing and information technology industries. Partners include pharmaceutical corporation Pfizer and trade union American Federation of Labor and Congress of Industrial Organizations.
Obama announced his $60 billion community college plan in January, when he said that a college education should be "as free and universal as high school is today, " and that up to nine million students could be affected by the policy.