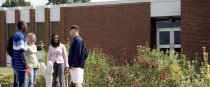 One of two main locations, the Rappahannock Community College Warsaw Campus features classrooms, labs, a lecture hall, a student lounge, sports facilities (volleyball, tennis and softball) and is home to the historic Chinn House. The building itself underwent a complete renovation some years ago, is a mirror-image of our Glenns Campus.
The quiet rolling hills of the 117-acre campus are perfect for studying and outdoor activities. The property includes a scenic walking trail located behind the athletic field. The campus Library is also the Richmond County Public Library — featuring special events, lectures and more.
Like all of our locations, the Warsaw Campus is equipped with the most advanced set of learning technologies in the region — from wifi to connected IV (interactive video) Classrooms, Rappahannock Community College gives students all of the tools to learn and succeed.
Location
52 Campus Drive
Warsaw, VA 22572
[Google Map]
Contact Information