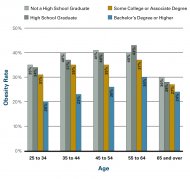 Notes & Sources
Note: "Obesity" is defined as a body mass index (BMI) of 30 or higher, which is equivalent to being at least about 30 pounds overweight at average heights. BMI equals 703 multiplied by weight in pounds divided by height in inches squared.
Sources: National Center for Health Statistics, 2008; calculations by the authors.
While the frequency of obesity is lower among adults with some college education than among high school graduates, for each age group the gap is largest between those with a bachelor's degree and those with some college or an associate degree.
Differences in obesity rates by education level persist through middle age but narrow considerably at older ages. For example, among 35- to 44-year-olds, 23% of four-year college graduates and 37% of high school graduates were obese in 2008. Among those 65 or older, 24% of four-year college graduates and 28% of high school graduates were obese.
Additional health care costs attributable to obesity averaged about $361 per adult in 2008. The total cost could increase fourfold by 2018 if the current rate of increase in obesity continues (United Health Foundation, 2009).