Modern businesses simply cannot compete without the power of information systems. As a result, MIS skills are no longer optional for business professionals. The dynamic nature of our current business environment dictates that all areas of business leverage the power of information systems to perform effectively. The ability to successfully design and implement business information systems has become a cornerstone in all industries.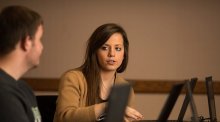 The bottom line? MIS professionals play a strategic role in all businesses through the integration of people, process, and information technology. This creates unprecedented opportunities for management information systems professionals. In fact, the Bureau of Labor Statistics projects the need for business analysts to grow 30 percent by 2018.
At Ohio University's College of Business, our approach to teaching is well matched to the market opportunity. As a student, you'll learn the technical and analytical skills necessary for success. You'll put what you learn in the classroom into practice, gaining the hands-on experience that will solidify those skills for life-long success. When you graduate from the program, you'll have an inventory of hard skills that you can apply the first day of your career, skills like systems implementation, consulting, technical writing, project management, risk assessment, change management, case modeling, information systems fundamentals, and process mapping and design. You'll also have developed the soft skills necessary to connect and communicate key business needs with IT solutions.
Our teaching philosophy is recognized for excellence. In fact, the Management Information Systems degree at Ohio University's College of Business is consistently ranked one of the top in the country. In 2013, Bloomberg Businessweek ranked the MIS degree 11th-best in the nation.