Chancellor Dan Klaich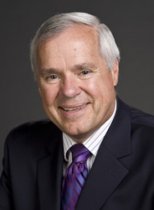 The chancellor is appointed by the Board to serve as the NSHE's chief executive officer. The chancellor works closely with the Regents and presidents to develop NSHE strategies and implement Board policies.
Daniel Klaich was appointed by the Board of Regents to serve as the NSHE's tenth chancellor on June 18, 2009. He previously held the positions of executive vice chancellor, vice chancellor for legal affairs and administration and chief counsel.
Mr. Klaich is an attorney, admitted to the bar in Nevada and California and was in private practice for almost 30 years prior to joining the NSHE.
He is a native Nevadan and a 1972 graduate of the University of Nevada, Reno with a Bachelor of Science in Accounting. He received his Juris Doctor from the University of Washington School of Law in 1975, and in 1978 received a Master in Taxation from New York University.
Mr. Klaich served on the Board of Regents of the NSHE from 1983 to 1997, including two terms as Chairman of the Board.
Mr. Klaich is married to the former Denise Woods (University of Nevada, Reno 1973). They have four children and nine grandchildren.