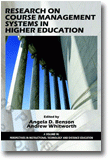 Edited by:
Angela D. Benson, University of Alabama
Andrew Whitworth, Manchester University
A volume in the series: Perspectives in Instructional Technology and Distance Education. Editor(s): Charles Schlosser, Nova Southeastern University. Michael Simonson, Nova Southeastern University.
The e-learning research literature is characterized by studies that investigate the practice of teaching and learning online (pedagogy) and those that investigate the planning and administrative functions associated with e-learning delivery (management). This edited volume directs attention to pedagogy and management as it relates to the primary e-learning delivery mechanism, the course management system (CMS). Specifically, the research presented in this collection deals with a range of themes relevant to the selection, implementation, use and evaluation of course management systems in higher education.
The primary audience for this book includes instructors and students in instructional and educational technology programs. The book could easily be used as a text in a distance or online learning course. The secondary audience includes instructors and students in higher education programs and e-learning practitioners and administrators. The book is timely because of the growing presence and influence of course management systems on teaching and learning in higher education.