STATE COLLEGE, Pa. - Between new coordinators, a completely different offensive scheme and a quarterback competition - there's obviously been plenty to track this spring for Penn State.
And Saturday's annual Blue-White Game can only help clear up some of those mysteries.
Penn State's brand-new offense, designed by first-year coordinator Joe Moorhead, will be on display Saturday as will the on-going QB battle between Trace McSorley and Tommy Stevens. Not too mention the new-look lines and the first look at the early enrollees.
There's plenty to watch here. So here's what you need to know: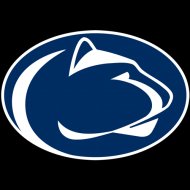 For full coverage of the Nittany Lions, check out the Penn State blog, part of ESPN's College Football Nation.
More:
• Penn State's clubhouse page
• ESPN.com's Big Ten blog
Where to watch: Where else? Beaver Stadium will host the annual scrimmage on a sunny Saturday, with temperatures in the low-70s, and the public is welcome to attend at no charge. Gameday parking is also free. Fans who can't attend may stream the scrimmage on BTN2Go.
When to watch: Kickoff is 2 p.m. Saturday. The team bus will arrive at 10:30 a.m., and the player autograph session will take place at different gates from 11:15 a.m. to 12:05 p.m. (Saquon Barkley will be at Gate A.) Gates A and B will open the public at 12:30 p.m. And the stadium parking lots become open at 8 a.m.
Who to watch: Quarterbacks McSorley and Stevens are still competing for the starting spot, so there might be no one worth watching more than them.
Barkley is electric, but it's unlikely he'll play an entire scrimmage - whereas both quarterbacks need all the reps they can get. Outside of those two, fans should pay close attention to backup running back Andre Robinson, redshirt freshman wideouts Juwan Johnson and Irvin Charles and the buzz of spring practice, defensive tackle Kevin Givens.
What to watch: Moorhead will unveil his new scheme for the first time publicly Saturday. Players have raved about the new up-tempo spread offense, and it'll be interesting to see just how quickly it can move.
In the past, the offense would run about 14 plays in 10 minutes. After the first week of practice? About 14 plays in seven or eight minutes. Defensive tackle Robert Windsor even lost his lunch in the middle of a series because he was so out of breath.
The offensive line has also seen its fair share of changes the past few weeks with assistant coach Matt Limegrover at the helm. Ryan Bates is starting at left guard and Noah Beh might start at right tackle; those are two players that Penn State fans haven't seen much of yet. And one of the big questions this offseason is, "How much can this line progress?" Saturday should provide a preview.
On defense, new coordinator Brent Pry hasn't strayed too much from the old scheme. And, with an improving secondary, don't be surprised to see a few interceptions.
Why to watch: Penn State's Blue-White Game is serious business in State College. Some 68, 000 fans attended last year's scrimmage and, the year before, about 72, 000 fans watched the game from inside Beaver Stadium. On top of that, fans will see an offense Saturday that's built around a dual-threat quarterback and is a total departure from the past two seasons.