Gang violence is threatening children's safety and well being throughout Central America. It is also threatening the impressive educational gains many nations have made over the past two decades.
Over the past few months, the United States has been caught off guard by the thousands of unaccompanied minors entering the country across the Mexican border. Projections estimate that in 2014, more than 90, 000 unaccompanied children will enter the United States, up from 16, 056 in 2011. The vast majority of these children are from three countries in Central America – Honduras, El Salvador and Guatemala.
What is remarkable is how young many of the Central American children are: of the unaccompanied minors apprehended in the United States thus far in 2014, more than 27% of Hondurans, 22% of El Salvadorians and 10% of Guatemalans were under the age of 12. In contrast, only 3% of Mexican migrants were younger than 12. Widespread gang violence and poverty were cited as the reason most of the children have been sent by their families to the United States. Weak and corrupt central governments have been unable to enforce the rule of law, allowing gangs and militias to control large swaths of Central America through coercion and violence.
Thriving Education Systems
Given this mass exodus of children from Central America, it would be easy to assume that these three nations have simply failed their children. In fact, that is simply not the case. It may seem surprising, but the formal educational systems in all three nations have been thriving – Central American nations have emerged from the devastating civil wars and economic crises of the 1980s admirably dedicated to expanding educational opportunities to all children.
The graph below shows the net enrollment rate (NER) in primary school for Honduras, Guatemala and El Salvador between 1970 and 2012. It is clear that during their civil wars, both Guatemala and El Salvador had low levels of primary schooling, and were hardly able to expand access to primary schooling. Honduras, meanwhile, made significant improvements in expanding primary enrollments as early as the 1980s.
Despite low initial levels of primary enrollment, access to primary school has increased rapidly since the mid-1990s in both El Salvador and Guatemala, just as the two nations were emerging from devastating civil wars and transitioning towards democratic rule. Today, the NER stands at roughly 93% in all three countries, up from less than 75% in the mid-1990s – suggesting that all three nations are close to meeting their Education for All (EFA) commitments.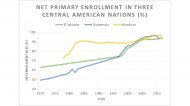 https://fb-laser.com
1270nm 20mw fiber dfb laser diode.