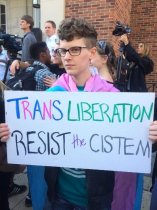 Some two weeks after North Carolina Gov. Pat McCory signed the highly controversial Public Facilities Privacy and Security Act on March 23, Margaret Spellings — president of the University of North Carolina System — announced that all 17 campuses will comply with the law requiring multi-occupancy bathrooms to be designated and used by people based on their biological sex.
But she's not happy about it.
With the law, North Carolina becomes the first state to require public school and university students to use only those bathrooms that match their birth certificates, according to the National Conference on State Legislatures.
House Bill 2, or the "bathroom law, " also regulates employment and public accommodations statewide, and prevents local governments from passing anti-discrimination rules. It has received widespread criticism from civil liberty groups, politicians, corporations, students and more. Bruce Springsteen cancelled his Sunday concert in Greensboro, companies such as PayPal and Lionsgate have even halted plans to operate in the state and hundreds of UNC students and faculty members decried the law at protests and rallies.
Spellings' memo, released online April 5, reads that "the Act amends the state's public policy statement regarding nondiscrimination, and provides that it supersedes nondiscrimination regulations imposed upon employers and public accommodations by political subdivisions of the state, including local governments. The Act does not limit the ability of local governments and universities to adopt policies with respect to their own employees."
It also does not contain provisions, she noted, "concerning enforcement of the bathroom and changing facility requirements, " and said that university institutions may designate bathrooms and changing facilities on campus as gender neutral if they are single-occupancy facilities.
"Constituent institutions must continue to operate in accordance with their nondiscrimination policies, " the memo also said.
"We will not be policing bathrooms, " university system spokeswoman Joni Worthington told The Washington Post, noting that Spellings' memo is not an "endorsement" of H.B. 2. Spellings, Worthington told the newspaper, has raised "concerns with what the law symbolizes and the chilling effect its having across the UNC system, " including its impact on recruitment, retention and fund raising.
Here, some highlights surrounding the passing of the legislation.
A lawsuit
A federal lawsuit has been filed by the American Civil Liberties Union, the ACLU of North Carolina, and Lambda Legal and Equality North Carolina against the governor, the attorney's general and the university system.
The plaintiffs — who include a student, a faculty member and a staff member from UNC institutions — asked the federal court to rule the law unconstitutional and stop North Carolina from implementing its provisions, according to Spellings memo.
"The plaintiffs allege that the Act violates equal protection, due process and privacy protected by the United States Constitution, " it said.
The plaintiffs also argue that the act violates Title IX — a federal civil rights law that prohibits federally funded education programs from discriminating against people based on sex.
Economic backlash includes:
California-based entertainment company Lionsgate opted out of shooting a new series in North Carolina;
Braeburn Pharmaceuticals, a pharmaceutical company based in Princeton, N.J., nixed its plans to open a research and manufacturing facility there;
the NBA says it is "deeply concerned" with the law and is questioning its plans to hold the 2017 NBA All-Star game in Charlotte.
Students speak out
At a March 29 rally in downtown Chapel Hill, hundreds of LGBTQ supporters, including UNC students and faculty chanted, "If we don't get no justice, then you don't get no peace."
Others protested outside the governor's mansion in Raleigh on March 24.
"There was anger, there was pain and there was celebration of who we are, " says grad student Rémy Jodrey, who attended the Chapel Hill rally.
"We are just a group of people wanting to be heard, seen and respected."
Jodrey, who has identified as queer for six years and prefers the pronoun "they, " says the law makes them increasingly hesitant to disclose their identity. As they begin to apply for jobs, Jodrey admits they are anxious about being visibly queer.
"We just want to exist like any other human being, " Jodrey explains. "(This law) is a step in the wrong direction."
As for Spellings memo, Jodrey said, she "has historically been no ally to the LGBTQ community. But still, the statement seems cold and callous. … This statement demonstrated absolutely no regard for the safety and well being of trans and queer students. I know politics is sticky and you have to tow the party line sometimes, but it's still very angering and hurtful."