It may be a lofty goal to try to make recordings that sound as close as possible to real, live music. But every now and then the state of the art advances.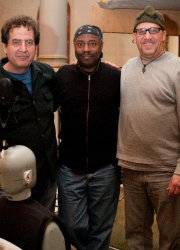 Jamey Haddad, Lenny White and Mark Sherman, with dummy binaural head Head-Fi/Jude Mansilla
I attended such a recording session in mid-December and was treated to the best, most realistically natural sound I've heard. Over monitor speakers the sound was excellent, but the sound over my Ultimate Ears in-ear headphones was vastly better. I could listen to the music "live, " and then rush back to the control room and don the headphones. The gap between live and recorded sound has never been smaller.
All of the music was improvised on the spot by three master percussionists: Lenny White (who played with Return to Forever and Miles Davis), Jamey Haddad (Herbie Hancock, Paul Simon), and Mark Sherman (Tony Bennett, New York Philharmonic). The three men pumped out funky beats, kinetic grooves, and dense musical atmospheres with a vast array of drums, shakers, gongs, and a vibraharp.
Both the conventional high-resolution digital recording (176-kHz/24-bit) and a separate hi-res binaural recording were produced by David Chesky and recorded by Nicholas Prout. Both recordings were completely uncompressed and no equalization or processing of any kind were used. Since it was an audiophile session, no compression or EQ will be applied in the final mastering of the recordings. In other words, the sound I heard at the session will be the sound you hear.