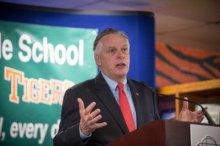 Virginia Gov. Terry McAuliffe wants to redesign high school in the commonwealth, putting more emphasis on preparing teens for the workforce and creating more opportunities for them to get college credit while in high school.
McAuliffe (D) wants to give the Virginia Board of Education the authority to go back to the drawing board to determine what students need to know to be a part of the 21st-century workforce and decide the high school requirements from there. In January, he pushed a bill in the House and Senate to revamp those requirements.
The bills address the question, "What are the competencies that we need our graduates to have when they leave high school?" Virginia Secretary of Education Anne Holton said in a recent interview.
The governor's push to revamp high school is one part of his education agenda for this legislative session. He also has ambitious plans to ramp up education spending, adding $1 billion overall to the state budget for K-12 education and higher education.
[ Virginia governor proposes funding increase to hire additional teachers ]
Holton said the new requirements will be more flexible and that students will have more opportunities to fulfill them outside of the classroom. The Board of Education is expected to work with the SOL Innovation Committee, a group appointed by Holton that has been examining the state curriculum and testing requirements and has urged the state to scale back standardized testing. Holton expects the new requirements to begin for the freshman class that starts in fall 2018.
Sen. John C. Miller (D-Newport News), sponsor of the Senate version of the bill on high school requirements, said Wednesday that he endorses the committee's new vision of high school.
Under the plan, students would focus on core academic courses in the first two years. During the remaining years, students would be "free to decide whether they would like to go to college and continue on with education courses or if they would prefer the flexibility to try and come up with the skills needed for a career, " Miller said.
Miller said he hopes that the new requirements will "do away with 'seat time, ' " allowing students to earn credits for an array of out-of-classroom activities, such as internships and apprenticeships.
"Rather than sitting in an algebra 3 class where they can't see any relevance to what they want to do in the future, they will be able to take courses that best prepare them for their career choice, " Miller said.
Miller's bill has passed the state Senate and is working its way through the House. An identical bill, sponsored by Del. Thomas A. "Tag" Greason (R-Loudoun), has passed the House and is working its way through the Senate.
Greason said the state's current model of high school education puts too much emphasis on getting young people ready for four-year colleges even though many may be headed straight into the workforce or to community colleges.
"At its core, what we're trying to create is a high school experience that values multiple pathways, " Greason said.
The push for more career and technical education will mean that schools will need more teachers with those specialties. But those jobs can be difficult to fill, because people with expertise in computer science, for example, can earn far more as a programmer than as a teacher, Holton said.
To meet the need, the governor put forth a bill that would allow industry professionals to earn temporary credentials with less-onerous requirements than traditional teaching credentials. That would allow those working in other industries to teach part time while not giving up full-time work.
The Senate bill that would allow for the change in credentialing has passed the Senate and is now in the House.