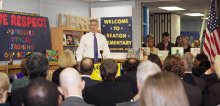 Secretary Arne Duncan laid out a sweeping vision for the nation's landmark education law, the Elementary and Secondary Education Act (ESEA) in a speech today at Seaton Elementary School in Washington, D.C. On the 50th anniversary of the introduction of the ESEA bill, he called for a new law that will work to ensure strong opportunities for all students, and protect the most vulnerable.
In his speech, Duncan said that as the country moves away from No Child Left Behind—the latest version of ESEA—Congress faces a choice of whether to take a path that moves towards President Johnson's promise of equity, or a path that walks away from it. He said:
Let's choose the path that makes good on the original promise of this law. Let's choose the path that says that we, as a nation, are serious about real opportunity for every single child.
I believe we can work together – Republicans and Democrats – to move beyond the out-of-date, and tired, and prescriptive No Child Left Behind law.
I believe we can replace it with a law that recognizes that schools need more support – and more money, more resources – than they receive today.
A law that recognizes that no family should be denied preschool for their children, and reflects the real scientific understanding that learning begins at birth, not somehow at age 5.
A law that recognizes the critically hard, important work educators across America are doing to support and raise expectations for our children, and lifts up the profession of teaching by recognizing that teachers need better preparation, better support, and more resources to do their hugely important job.
A law that says that educational opportunity isn't an option, it's a civil right, a moral imperative, and the best way we can strengthen our nation and attract and retain great jobs that expand the middle class.
Duncan pointed to the progress our country has made, but warned that, "we cannot allow ourselves to believe we are yet doing justice by all of our young people."
Not when other countries are leaping ahead of us in preparing their children both for college and the world of work. We're not there yet when millions of children start kindergarten already too far behind simply because their parents couldn't afford preschool.
Not when thousands of preschoolers are being suspended. And sadly, we know exactly who many of the 3- and 4-year olds often are – our young boys of color.
Not when a third of black students attend high schools that don't even offer calculus.
Not when across the nation, far too many students of all races and all backgrounds take, and pass the required classes for high school graduation – and are still not qualified to go on to public university and take real college-level classes.