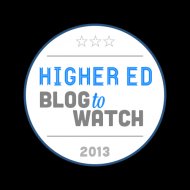 Here is our list of top higher education blogs to watch in 2013!
Blogs can be an excellent source for current ideas, and much of the content is focused on helping you grow and prepare for things to come in the field of higher education. Many of these blogs share higher ed trends, including tips, tools, techniques, personal experiences, and thoughts for improving how students learn and how institutions are run. Check out the list below and share your favorites (or higher ed blogs we missed) in the comments below.
At the end of 2012, we looked at college and university blogs as a key source of new, meaningful information. In order to identify the most useful resources, we ranked the blogs we came across. The sites we found cover a wide range of ideas and concepts, but our methodology stayed the same. To create this list, we audited blogs at two different levels.
Level 1: We aggregated a list of over 200 higher education blogs that were already recommended by other respected sources. We then analyzed each blog one-by-one, color coding the ones we would be most likely to recommend.

Level 2: Our editors visited the top recommended blogs, assessing them for post frequency, comment volume and engagement with the higher ed reader community. They also looked a variety of other factors, including relevancy, helpfulness, insight, design, reputation and more.